…a.k.a. How I got a Martha Stewart Ironing Board Using Twitter

It's officially 30 days since my "twitter" experiment began.  I believe in Social Networking, Social Media and tools like blogging immensely.  Last month I had Stephen Jagger on my podcast show and interviewed him about blogging and twitter (twitter is often referred to as a "microblogging tool as you can only post 140 characters at a time).  I'm on facebook, linkedin, have a friendfeed, video blog, and even an old fashioned well optimized web 1.0 sales website that still sends me a lot of business. So the question was "How valuable could this "twitter" tool be for sales people and marketers?"
Firstly I have spent most of the month observing other marketers, sales people, and entrepreneurs on twitter to see how they are using the tool to enhance sales, marketing, and branding.  The real power of this is the brevity of the message.  You have to get really good at writing headlines if you want to attract attention, and generate dialogue.
There's a catch though, as with all other social networking tools pitch artists, spammers, and people who like to talk about themselves are shunned, and within the 25-45 year old early adopter professional demographic they don't want to hear about mundane things either.  The conversation needs to add value, entertain, inform and be about more than just you, people tend to "follow" you.
Another attribute of great "tweeters" that I have also observed is that they spend less time trying to be interesting and more time being interested.  Jeramiah Owyang is a good example of someone who is highly interested by having consistent dialogue and positive input in other people's twitter conversations that he follows, along with being highly interesting in regards to his posts about the entire social networking, marketing and branding space (not to mention the odd comment about the US election).
Although the number of people who "follow" me only numbers 70 at this point I have seen the impact of the "retwteeting" (someone posting your microblog to their network).  I launched my sales video podcast on August 22nd and had 80 visitors in the first hour from twitter.  Not a monumental number in the grand scheme of things but how long does it take a new website to attract 80 new visitors in it's first hour live from Google? (Doesn't happen).
How I got a Martha Stewart Ironing Board Using Twitter
A quirky and fun experience with twitter (not really connected to sales, but positive socially anyway) was noticing that Tod Maffin (podcasting maverick, CBC radio personality, and self professed Uber Geek) made it known to the twitter community that he was giving away "Sound foam" that a person could use to dampen noise and improve the quality of their podcast.  I sent him a quick tweet which was followed by an e-mail and the next day I got to meet Mr. Tod Maffin in person, and he even gave me a Martha Stewart ironing board (BONUS! almost new).
What was even more fun is carrying a big piece of black foam and an oversize ironing board through downtown Vancouver to my office (wearing a blue suit and my Prada sunglasses).  A client saw me and looked very confused.
Below: A pic of me in Tod's place with my new found bounty (Thanks Tod!)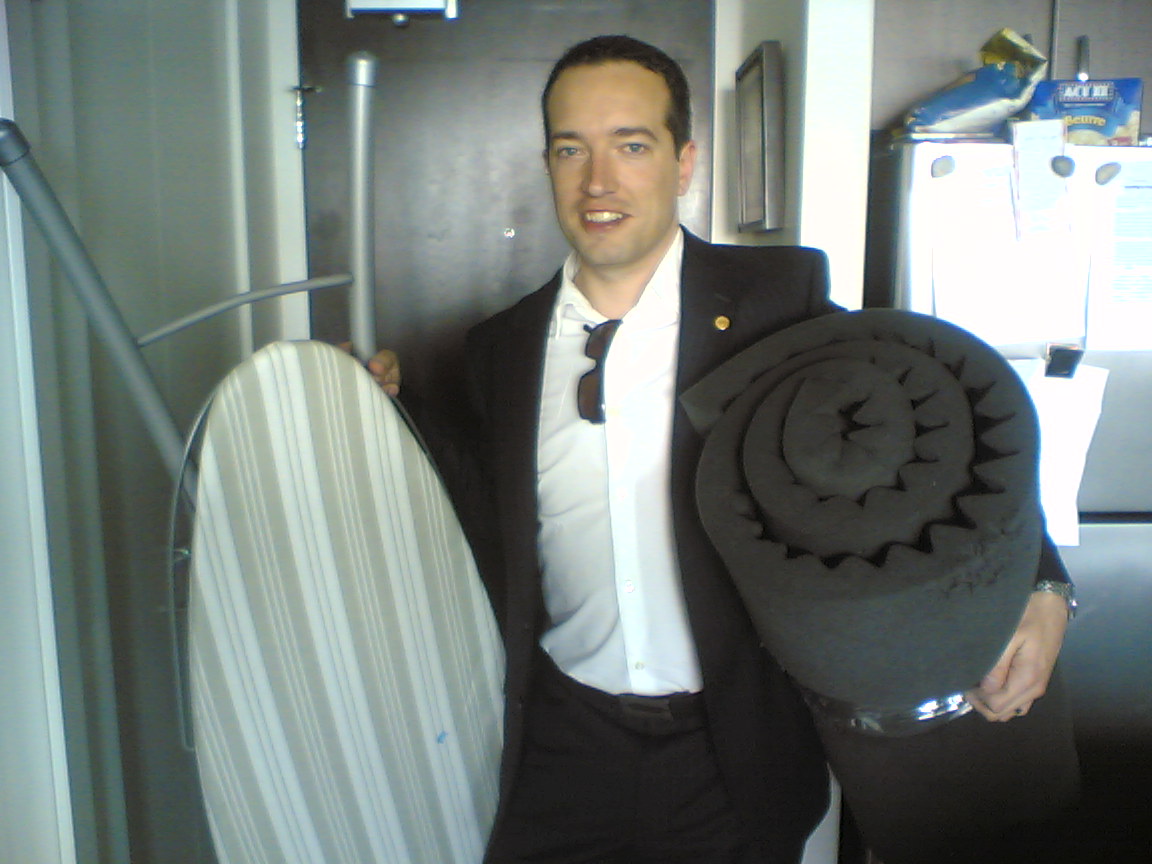 All quirkiness aside twitter has the capacity to spread news with it's 140 character sized posts like a wild fire spreads through a parched forest.  Some of the results so far in using twitter for me have included but have not been limited to:
Connecting with a Speaker's Bureau in Asia
Getting an RFP for Speaking at Conference Series
Being able to better monitor the activities and happenings within the hight tech community in Vancouver and beyond
Keeping tabs on new and evolving popular conversations (real time marketing intelligence)
Finding out what people are saying about my existing and potential clients online (opportunity identification)
Increased readership and listener / view base for my audio, video, and written blogs
Getting minute by minute updates from Barack Obama (I'm positive he was doing it personally)
Hearing about current events before it's posted on mainstream media sites
One question / statement someone e-mailed to me after I invited them to connect on twitter was "How the hell do you have time for this?" I thought it was an entertaining question.  I post about 5-10 mircoblogs or tweets per day.  It takes less than a minute to write 140 characters.  To me that's a high impact low input marketing tool.
This is not my final post or commentary on this tool. Hopefully it can open up some dialogue and I hope that as you read this you will post your comments and experiences with twitter and other social networking sites.
Here's a short-list of some of the people I follow on twitter that are really harnessing the tool:
Jerimiah Owyang
twitter address: http://twitter.com/jowyang
blog: http://web-strategist.com/blog
Stephen Jagger
twitter address: http://www.twitter.com/sjagger
blog: http://blog.ubertor.com
Viddler
twitter address: http://twitter.com/viddler
Video Site: http://www.viddler.com
Rebecca Bollwitt
twitter address: http://twitter.com/Miss604
blog: http://www.miss604.com
Raul
twitter address: http://twitter.com/hummingbird604
blog: http://www.hummingbird604.com
Ian Watt
twitter address: http://twitter.com/ianwatt
entertaining real estate video blog: http://www.ianwatt.ca/RealEstateVideos
John Chow
twitter address: http://twitter.com/JohnChowDotCom
blog: http://www.johnchow.com
Tod Maffin
twitter address: http://twitter.com/todmaffin
blog: http://todmaffin.com/category/blog