Sales Blog, Uncategorized
I registered for blog action day yesterday after being reminded of it while on twtter.  Today I will be blogging about poverty and how we can all take simple steps to help eliminate it locally and internationally.  To start off I must say that I am absolutely humbled to one of the 11,000 bloggers partaking in this today.  For many of them, they are well versed in what is really going on and steps we can take to help.  I myself as I sit back in my high back leather chair in my home office realise just how out of touch I probably am as a Canadian in this land of plenty.  Most of us are out of touch, something I didn't know for instance that one in 5 children in British Columbia live in poverty ( stats from B.C. Child and Youth Advocacy Coalition).  This is in my own community?  I must say before I blog another line that I'm right now, making a public commitment to do more locally.  So if one wonders if this blog action day really will have an impact, it already has on me.
Growing up on the West Side of Vancouver and attending Prince of Wales High School I often compared myself to the son's and daughters of some very wealthy people.  These kids drove to school in brand new BMW's and Lexus' (not all of them, but a lot).  I had a 53 Chevy Pickup that looked great but was truly held together with bailing wire and a prayer, I went through fuses like they were tic-tacs.  Funny I actually thought we were broke?  Then in 1993 in my first year of work in the family business we had some really tough times pretty soon we went from a new Lincoln, Turbo Volvo, and Whistler ski weekends to a new version of reality I wasn't accustomed to.  All the things I thought I needed no longer seemed to matter.  We struggled to pull together enough money from our ailing business to buy groceries, pay rent, and utilities (in fact we survived by the grace of friends like Bill and Donna Pearson, Del Hughes, Dave and Lynn Ferris and Jim and Sharon Janz). Somehow I thought we were suffering, but by global standards we were still very fortunate.  We had access to a network of great people, mentorship and help in solving our financial problems, free medical care, and we lived right in the middle of one of the most livable cities in the world.  With my limited life experience correct or not I thought that this was suffering.  I really never understood what dire poverty looks like until I left Canada and moved to Africa for 2 years in 1997-1999.
Flying into Johannesburg (3.3 million people) was a big eye opener.  This wasn't the Africa that Hollywood portrays (until recently).  In driving to the hotel in Sandton from the Airport my driver directed me to look out the window to my left.  There it was a somewhat unofficial settlement at that time. Alexandria or "Alex" as the locals called it.  A squatter camp that sprawled literally as far as the eye can see. Some paved some dirt roads, tin roofs and walls, much of it without electricity or running water.  I'm not sure of the figures now but at that time there was 60% unemployment, and many these unemployed people in the Joburg in Alex.  Some people claim there are over 1,000,000 people living there but there is no official census numbers for "squatters."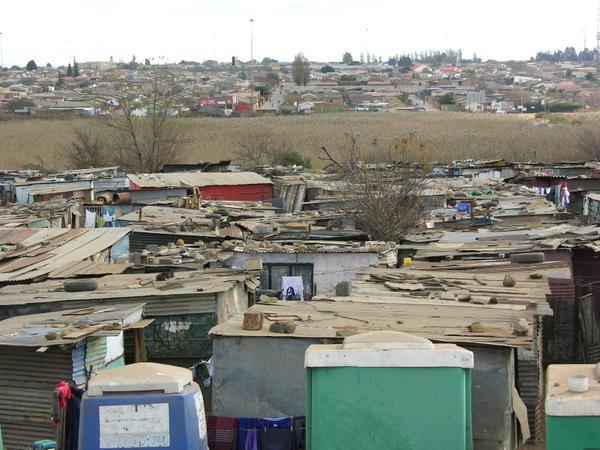 I did not have the opportunity to go right into Alex when I lived there (worlds worst homicide and carjacking rates per capita at that time), but I did flirt with the outskirts from time to time, and spent a considerable amount of time in smaller townships that were equally as destitute in other regions in South Africa.  I found most Africans to be proud and kind regardless of their economic plight.  Resourceful, eager to learn, and they seemed to be hardwired for entrepreneurism.  In most cases it wasn't just personal finances that were lacking, but access to a way out of their plight.  Education, mentorship, and the basics like clean water and electricity.  I don't want to be seen as painting a picture of helplessness, there are many people who have succeeded in that environment.  For me though, it was an eye opener as to how much we have as North Americans, and how little gratitude I had personally had for all of those things I thought were my God given right to possess.  It was then that I started to realize that many people are possessed by their possessions.  We can do so much more with our talents than collect and hoard things.
There in Africa I was first exposed to micro lending and what it can do as a force against poverty.  I would often walk past a kind man who sold oranges out of the back of a large wagon.  One day my brother stopped to talk to him.  We were mesmerized by his enthusiasm for his business.  He was unemployed for years before he started his orange stand.  A local South African Bank helped him get started, and when he started he didn't even have a fixed address.  They loaned him money daily, to buy inventory.  He would buy his oranges, mark them up, and turn a small profit daily.  The daily loan was less than $25 Canadian, which he would repay and then get another short term loan.  I know there are several popular micro lending formats but this one to me was interesting because it was not a hand-out, and it also helped him learn about cash-flow management and build his credit.  A $25 loan helped him eventually move into a real address, eat healthy food, and begin educating himself on running a business.
http://www.kiva.org/ is one tool that anyone in the world can use to begin to participate in micro lending.  A donation of $25 can make a real difference, and a $1000 can help an entire village.  Muhammad Yunus founder of Grameen Bank was awarded a Nobel Peace Prize for his ground breaking work in taking this concept and making it work on a large scale.
One final thought or story in regards to how to make a difference is that money is great, but sometimes it's not all that people need.  Mentorship, volunteering, and contributing by actually getting involved (in person or the way 11,000 bloggers are doing it today) is also needed.  Alfina worked for our family in South Africa, her son was unemployed and living Alex.  She asked me if I could help him get a job.  What he needed was help writing a resume.  He had no access to a computer, or printer and Alfina and her son had never written a resume.  He showed up 4 hours late, with no shoes on.  Someone had stolen them, and he had no money for public transportation, so he walked.  He walked from Alex to my place in Sandton, in bare feet, so someone could help him get a job.  I thought I was going to give him a lecture on being on time during the job hunt.  Instead he taught me a lesson on commitment and succeeding regardless of our resources.  NO EXCUSES.  We wrote his resume (his only job was "towel boy" for a soccer team) and it was pushing the barrier between non-fiction and fiction but we got it done.  He left with a pair of my shoes, some clothes, and big ambitions.  He canvassed every business in Johannesburg with no luck, so he hopped on a bus and with his very last resume in Port Elizabeth landed a job as a stock boy and eventually rose to cashier. Gainfully employed.
In giving we also receive, he taught me a big lesson on commitment. "Give to live for to withhold is to perish"  – Kahlil Gibran