Feb 03 / 2009
Comments Off on Influencing Top Level Decision Makers
Managing Complex Selling Relationships Blog, Sales Articles, Sales Blog, Sales Management Blog, Sales Training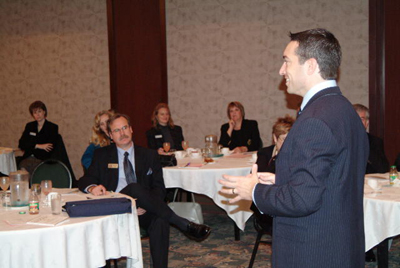 Guest Blog By Bill Gibson bill@kbitraining.com
Top level decision makers are results-orientated. Both tangible results and intangible results appeal to them.  When we talk about results we can talk about both tangible and intangible results.
Tangible Results
The kind of tangible results that appeal to them are:

Raising Revenues:
Show them how their overall volume can be increased; in other words, an increase in sales. They know that an increase in sales means more profit if the expenses are well managed.

Increase Efficiency:
They want a sizable return on their monetary investment. If they see that their employees, or their equipment, or other capital will be more efficient, then the chance of their buy-in is higher.

Keeping Shareholders Happy:
Top-level decision makers are the ones who have to answer to the Board of Directors and to the Shareholders in a large corporation. Keeping the Board or shareholders happy is their main priority. This means that you are showing them ways to improve the value of the company, in turn improving the value of the shares paid out, or returning a bigger profit so that larger dividends are declared and paid to the shareholders.

Lowering Cost of Production:
Again, more logical, linear, left brain appeal to the top level decision makers. Lower costs equal better margins and bigger profits.
Increasing Market Share:
They are interested in advertising, marketing and business development strategies, tactics and methods to increase market share. Taking market share from the competition is something that inspires them. Also, gaining a bigger share of the average client's   buying power  also means increasing market share to top level decision makers.
Higher Return On Investment:
Can you show them how they will get a bigger return on their investment for the money they invest with your services, products, ideas and concepts? If you can, they will want to know you and they will also open to investing time with you.

Dealing With Market Changes:
A sudden down swing in the economy, a new big competitor grabbing market share, a sudden market switch to a new technology, a new way of doing business, new government regulations that affect them adversely, a major change in consumer behavior are all examples of market changes that corporations have to adjust to and capitalize on. If you come with solutions for market changes that affect them, then they will  take the time to explore the possibilities with you.
Intangible Results:
The types of intangible results that appeal to top-level decision makers are:

Lower the Risk And Worry:
Anything that you can do to lower or eliminate the risk makes them feel better. Showing them how you will finish a project on time, protect their investment, handle unexpected situations, save them personal stress or personal hassle are all examples of what they consider to be valuable as an intangible. It makes them feel better and reduces their worries.

Personal and Corporate Pride:
Senior executives and top-level decision makers are at the top because they have personal pride and are proud of the business results that they achieve. Whatever you can do to make them feel even more proud of themselves and their company, will usually provide positive results.  One particular business journalist who works for the Globe and Mail uses this as her primary strategy to get senior executives to call her back for interviews.  She will leave a message or send an e-mail genuinely complementing them on their achievements and track record and citing why she thinks they are an industry authority.  Her callback rate is almost 100 percent.

Image – Personally And Corporately:
Yes the car they drive reflects their success level. The suits, the shoes they wear, the house they live in, the office address, and the image their marketing material portrays are all examples of personal and/or corporate image. Not all top level decision makers hold image as a top motive for buying, although most do, whether they admit it or not.

Retaining And Attracting Good Employees Who Work Beyond The Norm:
The top level decision maker knows that you win when you have exceptional people working with you. Show them how to attract and keep really good people who work beyond what normal people do, and they will be open to listen. When they see these types of people around them they are impressed and it gives them that intangible result of a sense of pride and comfort.