Apr 20 / 2009
Comments Off on Top Sales Blog and Podcast Entries of the Week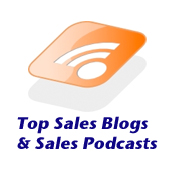 This week was a bit of a chore for me as far as devoting time to read other blogs and listen to podcasts. Stephen Jagger and I have been busy with our latest project and a lot of my time has been spent on marketing and technology orientated sites.   With that said there were several blogs that did leave an impression on me. Here's a quick list of what I found to be notable entries on the sales blogosphere this week.
#1) This is actually a live feed of multiple sales bloggers from around the globle. The World's Top Sales Bloggers List is a great place to discover new sales bloggers and podcast producers.
#2) Dave Kurlan put together a great sales management checklist of must have attibutes for sales leaders and managers.
#3) Kevin Eikenberry posted a good list of 5 ways to do some spring cleaning to your life.  Good tips for those needing to refocus.
#4) Paul Espinosa talked about how critical it is for organizations to get good ar hiring good sales managers in his post on "Sales Managers – The Real Role."
#5) The guys at the Sales Roundup Sales Podcast put together a great show on "How to price what you sell."
#6) George Petri from Symvolli posted a sales podcast on "B2B Relationships Don't Have To Be Lost – Continuous Contact Doesn't Mean Customer Stalking." Great stuff on creative follow-up.
#7) Bill Caskey and Bryan Neale put together a podcast on getting to and dealing with decision makers.
#8) Rick Cooper: The Fortune Is In the Follow Up was another podcast that I enjoyed.