Jun 05 / 2009
Comments Off on Vital Signs Day 18 to The 28 Days to Better Selling
Revenues are not a measurement, neither are deals closed, they are results.  They are a result of core habits and behaviors driven into practice over time with discipline.  With any sales goal, you first have to start with an annual dollar figure that is broken down quarterly, monthly and even the daily.  Achieving that goal of course is dependent upon the activities we put into our plan.
Anthony McAleer top producing financial advisor for London Life says it this way: "If you're not getting the results you want, you're probably not doing the core activities." Jim Janz, multi-million-dollar direct sales magnate calls these activities "vital signs."
Vital Signs
When paramedics arrive on the scene of an accident they will check the vital signs of those injured.  Just because someone is standing upright and talking does not mean they're healthy. Some vital signs to look for are:
•    Balance
•    Checking if the pupils in the eyes respond to light
•    Blood Pressure
•    Heart Rate
•    Breathing Rate
•    Brain function and nervous system response
•    Sensitivity to palpation
•    And many other factors
If any of these signs are out of sync, there is a chance that the injured is presently in danger, or could experience difficulties later on.
Your business, because you are a business of one, is responsible for bringing in revenues and turning a profit, has vital signs.  Just because you're making phone calls and networking doesn't mean you have a healthy business.  Revenues alone don't mean your business is healthy.
Depending on your business some of your sales vital signs could be the number of:
•    Calls per day
•    In person meetings with clients
•    Proposals written
•    Networking events attended
•    RFPs completed
•    Hours per week organizing or planning
•    E-mails sent
•    Blog entries written
•    Presentations made
•    Prospects added to your list
•    Revenues
•    Number of repeat orders from key accounts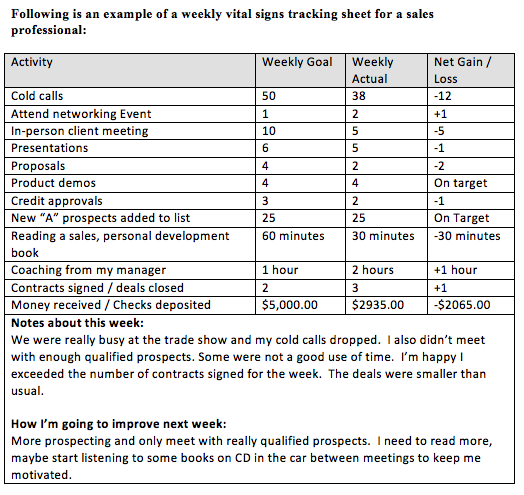 You could also produce and monthly, quarterly or even annual vital signs record sheet.  This process will give you a clear picture of how close you are to achieving your goals based upon your activity.  Over time you will also begin to notice a correlation between specific activities and revenues. These activities could be called "Core Vital Signs."
In direct sales for instance,  Jim Janz could predict the monthly gross revenues of a group of people based upon the number of people who attended training meetings and how many new people were added to the group over the previous 90 days.  You may find that there is a direct correlation between the number of proposals you write and the number of new clients you close.  The number of cold calls could be irrelevant for instance.
One important fact to note is that once you determine what your core vital signs are, you should book those first in your calendar and make sure that your entire plan is focused on you executing those activities.
In sales often when we are no longer getting the results we want we are no longer doing the key activities that make us successful.  Knowing your vital signs and executing them daily is key to your long term success.
Your Assignment Today is:
1)  List all of your core activities that you daily and weekly
2) Determine which ones are your vital activities that lead to your desired outcomes
3) Map out and begin to measure these activities daily