Jul 27 / 2011
Comments Off on How to Build a Massive Online Identity – Interview with Patrick Schwerdtfeger
Podcast: Play in new window | Download | Embed
Subscribe: iTunes | Android | RSS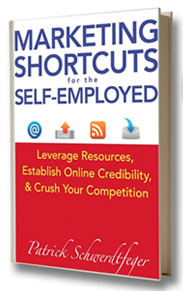 Today's podcast is an interview with Patrick Schwerdtfeger author of the new book "Marketing Shortcuts for the Self-Employed" (2011, Wiley) and a regular speaker for Bloomberg TV.
We talked about how you can take one blog post and repurpose it in at least seven different ways.  Patrick shared with us a few simple tips, that can build a MASSIVE online identity while working less than most of our competitors competitors.
We also covered some important social media how-to's:
1. Five places to get great content ideas.
2. Seven ways to repurpose your content online.
3. The reality behind blogs, content and getting found online.
4. The three-part "winning formula" for social media success.
For more information on Patrick's book and a free gift visit http://www.80shortcuts.com/gifts