Apr 23 / 2014
Comments Off on Online Professional Sales Certification Program Launches May 5th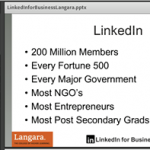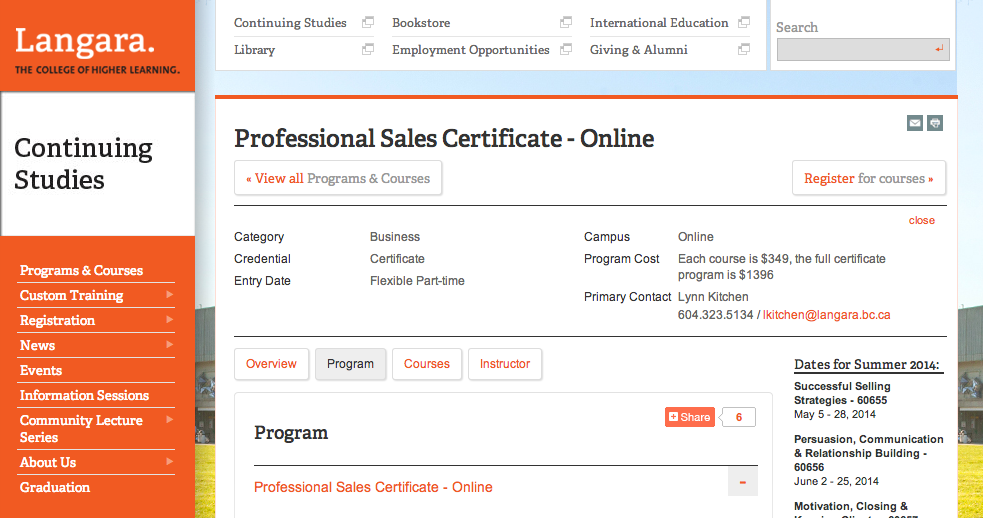 On May 5th the next Professional Sales Certificate Program starts. For many of our graduates it has helped boost their company revenues and personal career in a matter of months. It's said that nothing happens until someone sells something. We may have all kinds of great gadgets and amazing tools like Twitter and LinkedIn but someone still needs to know how to close the business.
Working with Langara College, international speaker Bill Gibson of Knowledge Brokers (South Africa) and myself (Shane Gibson) have put together the ultimate sales training program for new sales professionals and professionals that want to add a revenue generating toolkit to their repertoire. The methodologies in this program have been successfully used and implemented by major sales organizations including BMW, ABSA Bank, Gestetner, Vodacom, Siemens and Ford to name a few.
Our next program starts soon and here are the dates:
Successful Selling Strategies – 60655
May 5 – 28, 2014
Persuasion, Communication & Relationship Building – 60656
June 2 – 25, 2014
Motivation, Closing & Keeping Clients – 60657
July 7 – 30, 2014
Sales & Planning Toolkit – 60658 * Updated with brand new content on social selling
Aug. 5 – 27, 2014
Each course is 18 hours in duration held over a six week period and consists of weekly reading, presentations, group discussions and live webinars. If participants can't make the date and time of the live-webinar there will be an opportunity to watch a recorded version. All courses have testing built-in and each participant must have a passing grade in all courses to be eligible for the certificate.
This certificate is awarded to students who have successfully completed all four online courses below.
Successful Selling Strategies
Persuasion, Communication & Relationship Building 
Motivation, Closing & Keeping Clients
Sales & Planning Toolkit
Students will have access to their course on the first day using the Blackboard learning system. For course descriptions of our offerings at Langara College this term, please click 
HERE 
 and then on the orange Course Title. Please note that the CRN is the course number for 
registration
.  If you have any questions at all, please email Lynn at 
lkitchen@langara.bc.ca
About your Instructor and Trainer Shane Gibson
Shane was named on Forbes.com as the 5th most influential social sales professional in the world. Shane is an international speaker, and author on social media marketing and sales who has addressed over 100,000 people on stages in North America, Southern Africa, India, Malaysia and South America. He is in high demand as a keynote speaker on the topics of social media and sales performance.
Shane is the in-house Sales Trainer for BuildDirect and also the facilitator for the Langara College Professional Sales Certificate Program.
Shane's books include Sociable! How Social Media is Turning Sales and Marketing Upside Down. Closing Bigger the Field Guide to Closing Bigger Deals and Guerrilla Social Media Marketing, co-authored with Jay Conrad Levinson.
Shane's speaking and training clients that he has worked with include: Ford, CMA Canada, The Vancouver Board of Trade, Ford Motor Company, HUB International, Canaccord Financial and hundreds of entrepreneurs, individual sales people and marketers over the past 16 years. When he's not working or tweeting you can find Shane hiking or skiing in British Columbia's Coast Mountain range with his family.