iPhone Podcasts, social media, social media podcast, social media speaker, social media tips, social media training
Podcast: Play in new window | Download | Embed
Subscribe: iTunes | Android | RSS
Today's podcast and blog post are a result of some great dialogue, ideas and amazing research findings that were unearthed at yesterday's panel at the ERDI conference here in Calgary, Alberta.
The panel I sat on was on "Technology Implementation over the last 20 years in our schools. The panelists were: Michael Goldberg, Economist, Marty Keast, President of the School Division for Pearson Education, Linda Fabi, Director of Education for the Waterloo District School Board and the panel was kicked off by a very engaging and insightful talk by Thomas Greaves.
Thomas who is the co-author of "America's Digital Schools" spearheaded an in-depth research project called Project Red, of which he shared key findings with us. They did an in-depth study of 997 schools (K-12) in the USA and looked at 136 different variables in regards to technology and it's impact on student engagement, drop rates and even the positive economic impacts and savings associated with schools that are digital.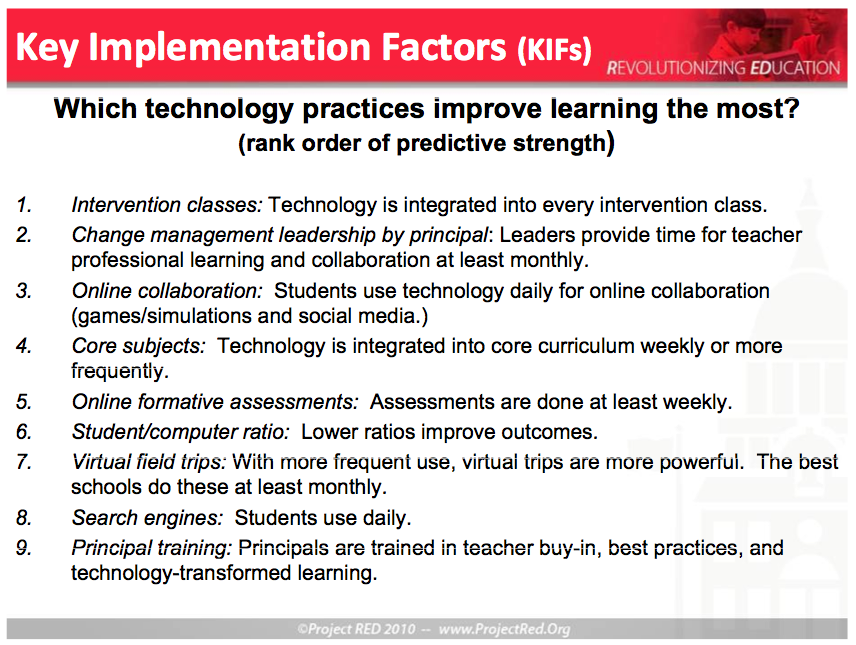 The schools that had some or all of the above 9 factors implemented effectively outperformed comparable schools that had not embraced technology. Very few schools (I believe only 1 if my notes are correct) apply all 9 strategically and comprehensively.
The one thing that really stood out for me is that fact that students that were allowed to regularly use search and social media in the classroom outperformed those that didn't. One big question from the audience of over 100 school superintendents, directors and technology partners is: "Where a how do we start with social media?"
My thoughts would be to do the following: (which is expanded upon in this podcast):
#1) Start with a social media policy for district staff from senior executives to principles and teachers. Then expand that to a policy for students, volunteers, parents and any other stakeholders.
#2) Have a series on initial buy-in sessions for staff at all level to help see the scope of social media and it's impact and relevance in education. This is vital as so many people have varied knowledge and assumptions about social communications. The biggest barrier to implementation is often misinformation and/or politics.
#3) Put together a step by step strategy to implement social media at the school board level. (If leadership isn't using it how can they tell principals and teachers to do it?
#4) Collaboratively work with Principals and Teachers to build an implementation plan at the school level. (Start with a few pilot schools)
#5) Each plan should involve training in both policy, the rules of engagement, online learning best practices, and in the key tools used by today's digital citizens (including but not limited to Facebook, LinkedIn, Twitter, YouTube and social search/monitoring) Some of this training can be done by student leaders.
#6) Develop curriculum to help get students social media literate. This educational component must address online etiquette, safety, and the value of collaboration and positive social communications.
#7) Reward collaborators and contributors at all levels.
There is a lot more to this process but the key opportunity and core ingredient for success in using social media for learning is the bi-directional communications and collaborations. It's no longer about talking at kids in the classroom, it's about engaging them in two-way dialogue and creating an environment where a network of students (and their teachers) can learn together through networked intelligence.
One statement that was made over and over was that collectively the computing power of smartphones that people bring to school far out-powers what is in the average school computer inventory/labs. The educational environment of the very near future is highly networked, always on, and very mobile. Those organizations that apply all 9 Factors indicated above can prosper in this new environment.