Jun 26 / 2014
Comments Off on 11:59:59 – The Will to Win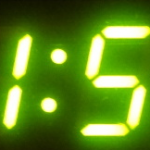 Sales Blog, Sales Management Blog, Sales Training

This weekend I watched my girlfriend's all women's team play in a baseball tournament. I sat on the sidelines (not the easiest thing for a guy who likes to be moving constantly) and watched them compete. They played some great ball and ended up 2nd overall in the tournament. What I want to focus on today is something their coach Chad had to say to the team.
One of the players asked what the score was. Chad's response was "the score doesn't matter – play like you're behind by 5 in the last inning." (The team was leading 12-9 at that point)
That one line resonated with me a lot. The difference between "beer-league" thinking and championship thinking lies within that one line. It's about intensity and follow-through. It's not about slightly exceeding the status quo (or our quota). It's about seeing how far we can take it, competing with ourselves to win as big as we can. (For the record – they played hard until the very last play).
This lesson reminded me of a good friend and mentor of mine Jim Janz, a giant in the direct sales industry. He's earned and still earns millions of dollars annually as a result of the sales leaders he has developed and helped become successful over the past 40+ years.
The single most important rule Jim shared with me that has helped him and his people succeed is this:
It's not over until 11:59:59 on the final day of the month.
Success and quota attainment is not linear and it has as much to do with momentum and magnetism as it does with qualified prospects or the perfect sales process.
There is magic in 11:59:59.
Lets look at a typical scenario that I have seen hundreds of times:
A salesperson or entrepreneur sets a goal of $100,000 in sales for the month. By the 15th they are only at $19,000 in sales. At this point their attitude begins to shift and they already decide that the $100,000 is unattainable – in many cases they will also build a long list of reasons why it hasn't happened. They begin to tell the story of why they can't and won't win. They say things like:
"The leads that marketing is delivering are duds."
"The economy is really tight right now."
"I don't have time to make proactive calls – I'm too busy to look for new business."
"No one else in the team is winning either – it's tough out there."
So on the 15th of the month they go and negotiate with their boss (or with themselves) and decide that $60,000 is a more reasonable goal. They also adjust their attitude, intensity and creativity to match that goal. Their customers can hear that lack of enthusiasm and lack urgency on the phone. At 9:30 am on the final Friday of the month they hit $62,000. They switch to thinking about the weekend, put their brain on auto-pilot and get ready for a fresh new start next month.
They tell themselves that when all that other stuff lines up (better leads, positive economics, fewer admin tasks and evidence that other people have done it) then they will be able to hit that $100,000 goal.
Then of course there are those people that don't quit on the 15th of the month, or even at 9:30 am on the final day. The numbers don't matter. They push for the goal.
I worked with a major Board of Trade's sales team a number of years ago, helping them with their sales process. The sales manager has a diverse leadership style – she's both highly empathetic and inclusive BUT you better perform if you work for her.
April is year-end for them and at 9:30 am on the final day of the month the entire team was well behind targets. She found them literally mulling about by the water cooler – telling their stories about why things had changed, why all the good prospects had already joined us, and why some people had good reasons for not renewing membership.
The manager pulled her team into their boardroom and gave them the 11:59:59 talk – it was their job to push through with the same intensity they started with month with –  and with an expectation that they can still win. She announced a celebration party that night in honor of them meeting and exceeding their quota. Each person was asked to go back and look over their top 20 prospects that still hadn't signed yet and put together a compelling offer for them – and to continue to call and follow-up until the final hour.
Just after 6:00pm that day, not even 11:59:59 pm, her team had closed the equivalent of a month worth of business – the same day that started with them admitting defeat. It was the single biggest sales day they had on record that year.
They played like they were 5 points behind, but they played to win. Too many of us set a goal to win but will never know what we are capable of because we mentally walk off the field of business in the 4th inning.
One final lesson From Jim. Jim Janz would always tell his people that their job wasn't to actually hit their BHAG (Big Hairy Audacious Goal) – it was to play to win until 11:59:59 on the final day of the month. At that time they would then take an inventory of their progress, celebrate their efforts, review lessons learned and then set a new audacious goal. Failure is never final or fatal – just work hard and learn from your mistakes.
I have two questions to wrap this up:
What would happen if you worked and re-worked your plan until 11:59:59 pm on the final day of the month?
 What would happen if you played like you were 5 points behind regardless of how big your last sale was?