Podcast: Play in new window | Download | Embed
Subscribe: iTunes | Android | RSS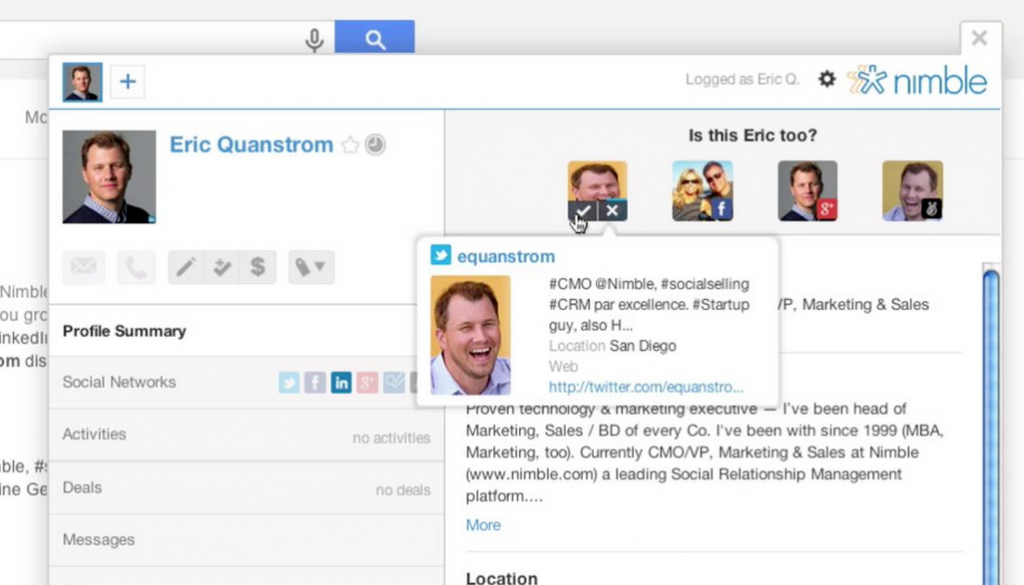 Social CRM and social selling are two terms which I have seen go from obscurity to mainstream business topics in the past 24 months. Jon Ferrara CEO and Founder of Nimble, an early innovator in social CRM and social selling technology, took time out of his schedule to share with us the latest innovations in the space.
"Social selling is about inspiring and educating the customer as a trusted advisor." – Jon Ferrara, CEO and Founder of Nimble
In this podcast Jon Ferrara talks about his new "Nimble Everywhere" plugin and tool for the Chrome browser. This plugin can literally embed rich, relevant data in any cloud based application – it even enhances tools like SalesForce.com or Microsoft 360 and Dynamics.
Some of the key talking points of the podcast were as follows:
Your contacts are everywhere so your social CRM and prospecting tools should be everywhere as well.
We need to turn connections into conversations and then those relationships into a measurable mutually beneficial business outcome for your company. This is something we all struggle with in sales and social networking for business and Nimble Everywhere makes this easier to do.
60% of your sales time is looking people up, logging what you did. From a social communications perspective your CRM should aggregate these conversations with each contact in an automated fashion.
The inbox is more and more becoming the ignore box for many people. Social media and social networks give us a way to get around the inbox.
It's not about who owns the customer. It's about the fact that the customer now owns the process.
When I asked Jon about what his favorite social media tools were he said for him the two primary social selling channels are LinkedIn and Twitter for him and his organization.
If you want to dig deeper here's a video presentation created by Nimble that shows you how Nimble Everywhere can enhance and streamline your sales process: