Dec 02 / 2015
Comments Off on Vote on the next #SalesTribe Twitter Chat Topic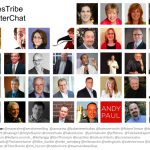 Our last #SalesTribe Twitter chat with 40+ sales experts and authors generated over 12 million online impressions on twitter with 100's of participants from around the globe. We are gearing up for our next Twitter chat and wanted your feedback on which topic you want us to cover. The #SalesTribe Twitter Chat will be on December 10th 2015 at 11:00 am PST / 2:00 pm EST. You can tick more than one box, try to stick to a maximum of 5 topics!
Thank-you for your help.
We are doing another #SalesTribe Twitter chat what topic you'd like to see 40+ sales experts cover?