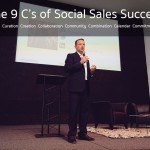 * Sales Podcast, social media podcast, social media speaker
Podcast: Play in new window | Download | Embed
Subscribe: iTunes | Android | RSS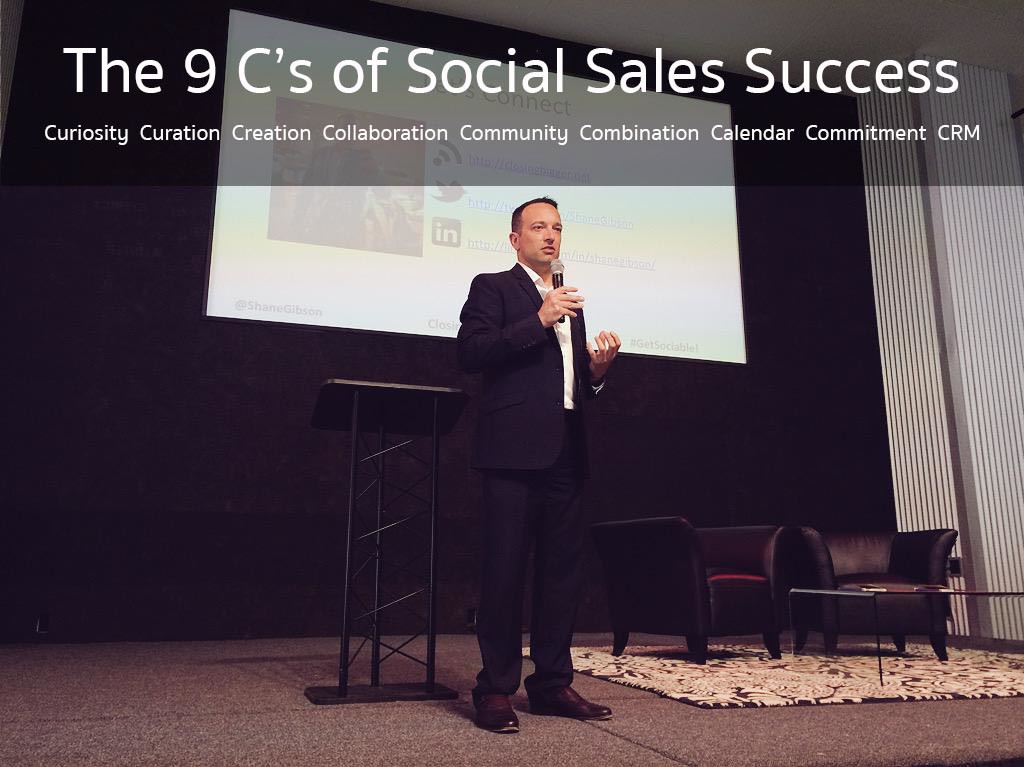 Today's blog post and podcast is about the 9 C's of Social Sales Success. Their are many attributes, attitudes and strategies required to effectively harness the power of online social networks for sales and relationship building. I have taken them and broken them down under 9 core areas that start with the letter C.
Following are the 9 C's of Social Sales Success:
1) Curiosity
Those that are successful in social sales are always looking for new ways to succeed and improve. They see obstacles and problems as pathways to opportunity and are inquisitive and investigative in nature.
2) Curation
Great sales people and entrepreneurs understand that Mind Share = Wallet share. They become a resource through curation and sharing of relevant content for their target market.
Through the act of evaluating and sifting through content they also improve their industry insights daily.
3) Creation
Is the next step where we move from resource to social selling thought leader in our industry vertical. As a social sales person your goal it to develop magnetic content that is value specific to your audience. Creation or value can also be creating events or pulling people together offline or online.
4) Collaboration
Great social salespeople strive to move beyond cooperation to collaboration with their team members within all departments of their organization. They also use relevant online collaboration tools like slack, hangouts, Slideshare, and mobile CRM apps to leverage their efforts and the expertise of their network. Great social sales people foster partnerships that amplify their work and help them reach new markets.
5) Community
As a salesperson your community is your long-term financial security. What your community says about you sells. Your community can also be your partners in innovation and product creation. Tools like HeroX can help you innovatively partner with your community.
6) Combination
It's not LinkedIn versus Twitter, cold calling versus email or online networking versus in-person. If you're successful in sales you are most likely combining it all to maximizes your success.
7) Calendar Driven
Motivation and inspiration are temporary, calendars keep you consistent in your activity and results. Prioritize your social sales activities based upon ROI. Plan out your social/content media calendar a month in advance so that you have your social sales content and communications strategy broken down to daily disciplines.
8) Commitment
Gary Vaynerchuk's big success came after video blogging 5 days a week until he hit  video 148 and then he kept going! 81% of the time you convert a competitors client it happens after 5 to 12 value-added contacts, follow-up and then follow-up some more. And remember… It's not over until 11:59:59 on the last day of the month.
9) CRM
Use Customer Relations Management tools like Nimble CRM or SalesForce. Your CRM organizes and aggregates all of your communications channels. CRM gives you feedback, it's a dashboard that maps all of your sales data helping you make better decisions. If used successfully your CRM tells you exactly where you are on your road to success.  It also enables you to collaborate with your team and manage an infinitely larger number if relationships than previously possible.
If you can apply all 9 C's of Social Sales Success you will be well on your way to building a magnetic personal presence that naturally drives new business to you.
If you're looking to improve your sales performance, you and/or your team member may want to check out my Online Professional Sales Certification Program.